Christ College accorded A Grade by NAAC
Christ College offering B. Ed and M. Ed courses is the only Teacher Training College in Bhopal accredited with A Grade by NAAC earning CGPA of 3.21 on a 4 point scale. The outcome is the result of the Assessment and Accreditation Exercise of the Institution by a NAAC appointed 3-member Expert Peer Team after their confidential report has been processed and approved of by the Executive Committee of NAAC, Bangalore, an Autonomous Institution of the University Grants Commission. The Peer Team comprising of Prof. K. K. Deka (former Vice-chancellor of Dibrugarh University) and Professor, Department of Education, Dibrugarh University, Assam, Prof. H. M. Kasinath, Professor of Education and Director for School Correspondence Education, Karnataka University and Dr. Shamima Bano, Principal, Guru Nanak College of Education, Dalewal, Jammu & Kashmir visited Christ College during 27th and 28th January 2014.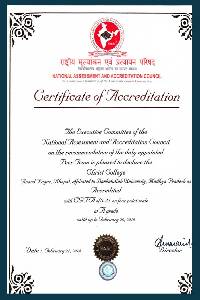 The visiting team made a thorough assessment of the institution verifying all the documents and records, visiting all the infrastructural facilities and interacting with the staff, students, alumni, parents, management, principals of practice teaching schools and eminent educationists from RIE (NCERT), Government and private Colleges, IGNOU etc. The first day Peer Team Visit, apart from packed up schedules,� witnessed a Luncheon meeting with various dignitaries and was concluded with a cultural programme organized by the Cultural Committee of the College interspersed with dance, music, entertainment and theme based skit highlighting values like girl child education, hypocrisy prevailing in the society etc, which was conducted in the Chavara Auditorium of the campus by the B. Ed and M. Ed students.
The Team Visit concluded with an Exit Meeting well attended by students, staff members, management representatives and public in which the Principal Dr. Fr. John Ollukaran CMI welcomed the audience and Dr. K. K. Deka, the Chairperson of the Peer Team made his concluding remarks on the visit and handed over the sealed confidential report to the Principal.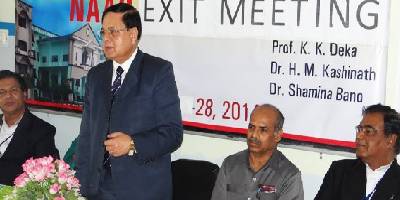 COORDINATOR PEER TEAM ADDRESSING THE STAFF DURINF THE EXIT MEET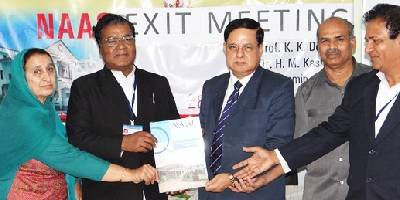 NAAC PEER TEAM HANDING OVER THE REPORT AT EXIT MEETING